Austin SEO Experts – Texas Businesses' Solution for Search Engine Optimization
Austin SEO Expert vs. LinkedIn Ranking
LinkedIn is currently ranking number one on the keyword Austin SEO Expert. I'm theorizing that Google might give an actual SEO professional the number one position, instead of LinkedIn, due to the nature of Stone Amp SEO's website versus the nature of LinkedIn's website.
On Page Optimization of Media
Here's a video I shot from my desktop and placed on YouTube, describing this experiment. As a Search Engine Optimization professional, I love running experiments like this based on my hunches. This helps me better understand Google's search algorithm.
If successful, this page should rank pretty high on the SERPS. We can see in the image below that the Keyword Difficulty is 49.76. That doesn't mean it's going to be easy, however, with a little juice from YouTube and some basic on-page SEO, we have a shot to be ranking pretty high against the current 636,000 results found for this keyword.
Here is the image I took from semrush.com showing us LinkedIn's current number one ranking.


SEO Strategy for this Use Case
I've created this post with some external and internal links.
I have placed a couple of images on this page with targeted alt text
I've embedded a video on YouTube.
I'm keeping the initial post to around three hundred characters of text.
I will share this post via Google My Business, using their recent 'Posts' feature inside the Account Manager area.
My last step will be to add Austin SEO Expert to my rank tracking tool, so I can monitor this page's rank movements on Google.
I've created a calendar entry to check the rankings and add an update to this page November 3.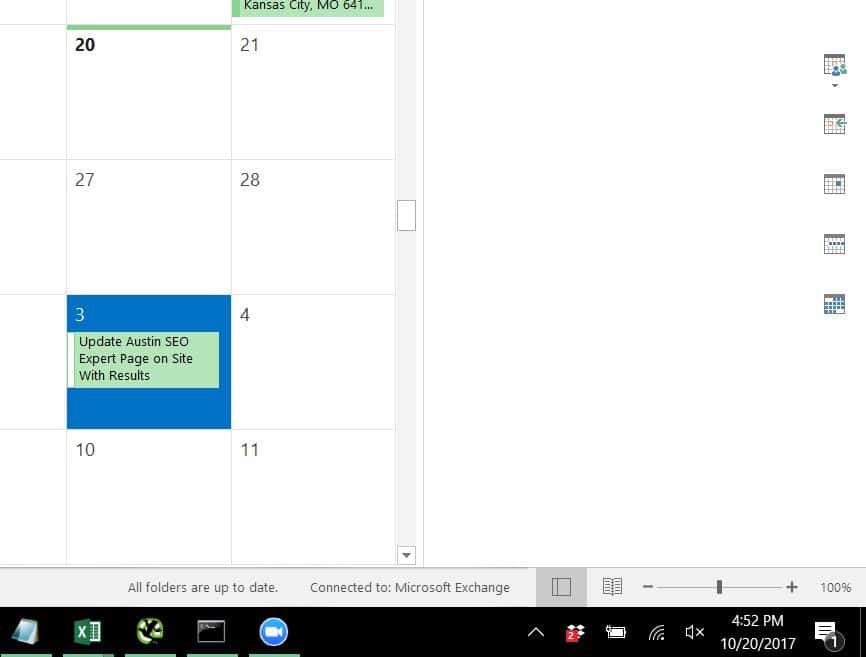 If you happen to have found this page while searching for an Austin SEO Services or Austin SEO use case, then I hope you consider reaching out to a proven SEO expert from Kansas City.
This concludes the activity for now. I'll report my status on Nov 3rd. 
SEO expert findings from November 2017 through February 2018
UPDATE: November 5, 2017 – Watch the video below to see the results of this experiment!!
These are the results after 3 weeks and 2 days of the initial experiment. Pretty awesome results!!
Rank Results:
YouTube: #1 for exact match of video title Austin SEO Expert – Leveraging LinkedIn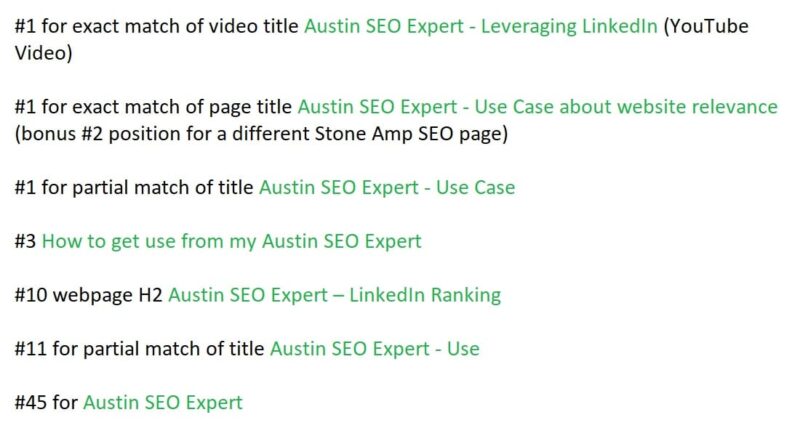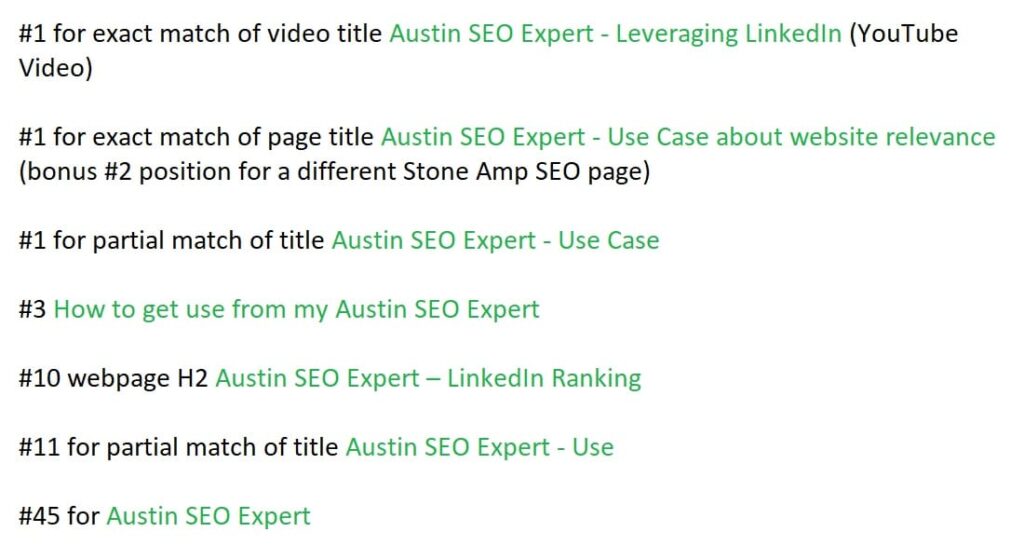 UPDATE: February 26, 2018
Using a new tool for SEO, I'm going to implement the suggested changes to help rank higher for Austin SEO specialists.
Below is an image of the current rankings for Austin SEO Expert.


Below is the suggested changes recommended in order to compete more effectively for the search phrase of Austin SEO Expert.

So far in this update, I've mentioned SEO consulting in for the City of Austin, Texas 4 times. That should cover the Keywords in Article Tags.
In order to capture the section recommendations, I'll now create a recap of what I've done for this page to rank. This should cover the 14 Keywords in Section Tags.
Overall Recap and Excuse to Create a Sections Area in Code
Using semrush to look into rankings of LinkedIn, I selected a keyword that is relevant to the subject matter of www.stoneampseo.com, which was Austin SEO Expert.
Once the keyword was identified I shot a video of what my intentions were for ranking this page including capturing phrases such as austin seo search engine optimization, seo expert austin, seo specialist, and so forth and so on.
I then scheduled a date in November to check the rankings of this page..
I used this experiment to test a new SEO tool, to help check the validity of the tool itself.
Do you have a website that needs found on Google? Contact Stone Amp SEO today to help!